At Mercuri, we are committed to setting high standards. As proof of our professionalism and competence our awards, awarding bodies, memberships and accreditations are listed below: 
BESMA
We are incredibly proud of the win at #BESMA2017 for Sales Development Programme of the year with Virgin Holidays for the "Selling At My Best" programme, led by Mercuri Strategic Business Manager Moyra Smith.
The British Excellence in Sales Management Awards (BESMA) recognise and reward the best sales professionals in the UK, showcasing their achievements and products, helping to promote the art of selling across the country. 
We are featured on Training Industry's 2018 top 20 sales training companies.
Mercuri International is included on the 2018 Top 20 Sales Training Companies that excel in helping sales leaders improve the performance of their sales teams."This list of the Top 20 Sales Training Companies is a critical tool for sales leaders. Anyone who wants to enhance the productivity and performance of salespeople should consider the companies on this list – each of which can help provide the increased support, coaching, and training necessary to help salespeople learn to navigate relationships with today's empowered buyer." 
The Selling At My Best programme for Virgin Holidays was shortlisted for Best sales training programme at the 12th annual Training Journal Awards 2017.
Mercuri International (UK) Ltd is delighted to be working with the APS to foster a new generation of skilled sales experts with the Level 4 Sales Apprenticeship.
Quality Management
We are ISO 9001 certified – ISO 9001:2015 with NQA.  ISO 9001 is the international standard that specifies requirements for a quality management system (QMS).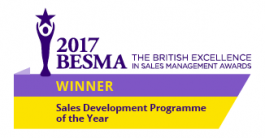 Related content
In-house Sales and Leadership Training
Hear what our customers say
BESMA AWARDS 2017 – Sales Development Programme of the Year!