British Values are important as these underpin what it is to be a citizen living in Britain today. We are fortunate to live in a country that is richly diverse and by promoting British Values, we are able to celebrate this diversity by creating a learning environment free from discrimination, intolerance and hate. British Values help us to challenge prejudice and stereotyping whilst strengthening relationships with colleagues, learners and employers.
By actively promoting these values in our staff, learners and employers we embed them into learning across all curriculum areas.
British Values are defined as the following: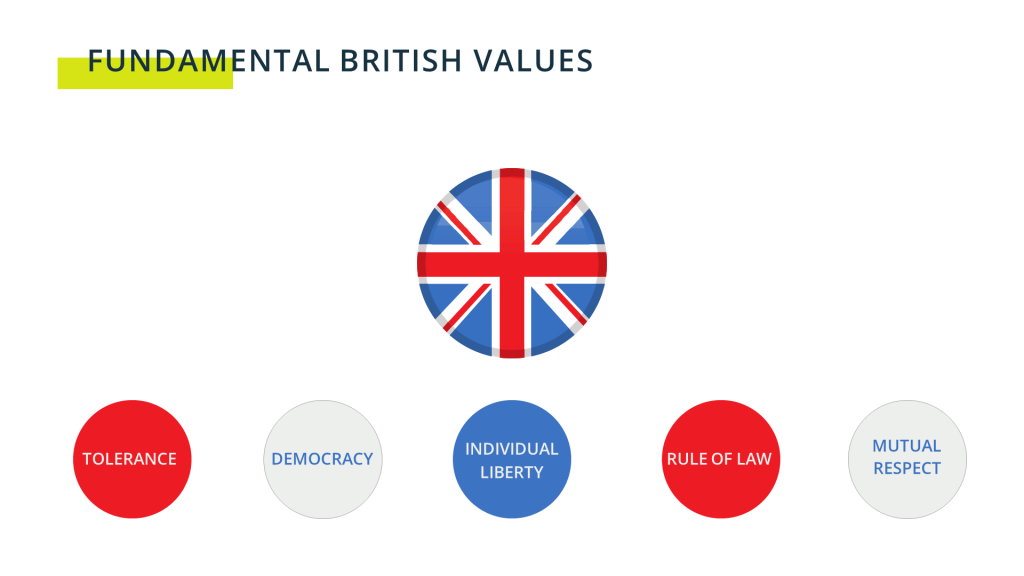 Democracy
A culture built upon freedom and equality, where everyone is aware of their rights and responsibilities.
The rule of law
The need for rules to make a happy, safe and secure environment to live and work.
Individual liberty
Protection of your rights and the rights of others around you.
Mutual respect & tolerance of different faiths and beliefs
Understanding that we don't all share the same beliefs and values. Respecting those values, ideas and beliefs of others whilst not imposing our own onto them.
Equality is about ensuring everybody has an equal opportunity, and is not treated differently or discriminated against because of their characteristics.
Diversity is about taking account of the differences between people and groups of people, and placing a positive value on those differences.
Inclusion means creating an environment where everyone feels welcome and valued. An inclusive environment can only be created once we are more aware of our unconscious biases, and have learned how to manage them.
Equality of opportunity
Equality of opportunity is about ensuring everybody has an equal chance to take up opportunities and also to make full use of the opportunities on offer and to fulfil their potential.
Diversity
Diversity is about celebrating and valuing how different we all are. This is strongly linked with promoting human rights and freedoms, based on principles such as dignity and respect. Diversity is about recognizing, valuing and taking account of people's different backgrounds, knowledge, skills, and experiences, and encouraging and using those differences to create a productive and effective workforce.
Diversity is something that applies to everyone, and should be part of everything we do. It is an important part of our work and not just a side issue. It requires everyone to play a full part. It is important to recognize that none of us fit neatly into separate 'packages' which can be neatly labelled or discriminated against.
The Equality Act is a law which protects you from discrimination. It means that discrimination or unfair treatment on the basis of certain personal characteristics, such as age, is now against the law in almost all cases.
The Equality Act applies to discrimination based on:
Age.
Race.
Sex.
Gender reassignment.
Disability.
Religion or belief.
Sexual orientation.
Marriage or civil partnership.
Pregnancy and maternity.
Useful links