If you missed the second Women In Sales webinar you can catch the recording here
With only weeks to go to our second Women in Sales webinar with the APS we continue to consider themes around how to attract, keep and develop women in sales.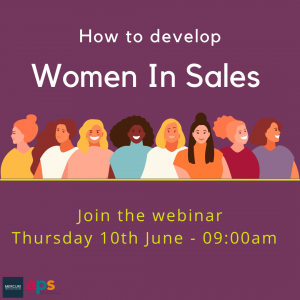 Development is one of the most popular words in the current commercial world. Developing:
New ways to do things.
People in new skills and knowledge.
And nurturing inherent qualities and behaviours to enhance commercial performance, career achievement and personal motivation.
Don't lose out!
Top candidates are now challenging employers about their development policies, budgets, patterns and commitments.
Employees rightly expect investment from their employers.
Organizations which have not thought this through are losing out on the best available talent. Women looking for the best career opportunities need to ask questions about their own capabilities and how an employer will support personal and professional growth. This does not simply mean formal training. It must extend to:
Continuous Professional Development (CPD) strategy
Career path planning.
Assessment.
Performance evaluation processes.
Reward and remuneration packages.
Reward and work-life balance
Levelling-up to use a zeitgeist term, extends to pay and opportunity equality and career path options. This does not mean the traditional (but frequently wrong) progression from successful salesperson to sales manager. Often the best sales people become underperforming or poor managers, being unable to cross the Rubicon from focus on self to focus on others. What would keep a successful salesperson in their current role rather than looking for the 'stripes'?
Future opportunity
Capability growth
Job stimulus
Reward
Work-life balance
Are these are the answers? Is there something else motivating you? Can you see these in your organization right now?
Find out more about the webinar
We are welcoming back our four panelists to the webinar: Chaninah Dzialoszynski from BSI, Hannah Saddington from Hewlett Packard Enterprise, Julie Nicholson from CCS Media and Lynn Siggins from Rockwell Automation will join the APS hosted webinar on Thursday 10th June 2021.