How to attract more women into sales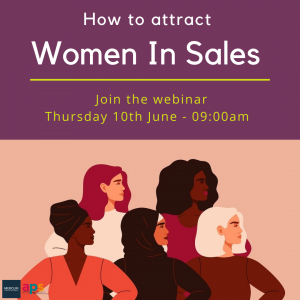 Our Women In Sales webinar part 2 explored how to attract, keep and develop women in sales. In this sales insight we look at how the pandemic has created more opportunities for women to thrive in sales.
It is inaccurate to say that women are not choosing a career in sales. More women than ever are making fantastic career decisions and experiencing success but the profession needs that number to continue increasing*. Myth busting and evangelizing by successful women in sales will stimulate interest and clarify the scope of career opportunities for those who are contemplating or, who haven't yet realized what is available.
"The gender-balance trend with regards to women in sales was already moving in a positive direction, but Covid 19 and lockdown have combined to create opportunity rather than stifle it."
Smarter, greener, team-based selling approaches
Even the most ardent traditionalists now recognize there is more than one way to sell both in terms of the physical process and the behavioural approach. As we resume some normality, many organizations have already ditched the hugely inefficient and environmentally damaging motorway-pounding treadmill. Replacing it with smarter, cleaner, more cost effective multi-modal selling methodologies. The days of the lone-wolf sales hunter are being supplanted by collegiate, team-based approaches based on cooperation and mutual support. Industry expectations are about:
– Professionalism.
– Ethics.
– Inclusion.
– Mutual respect in the workplace.
Employer flexibility about working hours and locations has been rewarded by higher productivity and motivation, not abused by lazy workers. The stale whiff of a bygone age may cling stubbornly in some fuggy pockets of commercial activity but in the main, the game has changed. We just need to ensure that everyone knows about it.
Continue reading about the gender gap in sales