The recent report published by the All Parliamentry Group for Professional Sales recognised the vital role that B2B selling must play in the UK's recovery from the pandemic.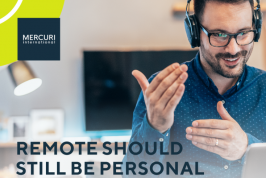 But the report also acknowledged that the pandemic has amplified the existing shortage of professional salespeople. Selling during Covid-19 has required more advanced skills. Capability with digital sales technology – but these skills and capability are in short supply.
"The Covid-19 pandemic has had a profound effect on business. It has accelerated the digital revolution in how we trade and exposed an acute skills shortage in professional business-to-business selling."

The All Parliamentry Group for Professional Sales Report
The sales revoloution
The world of sales is constantly evolving. Technological disruptors accelerate the rate of change, demanding new skills and new techniques. To stay competitive, businesses need to adapt, become more agile, and equip their workforce with the skills they need to stay ahead.
"Businesses have responded to Covid-19 by adopting digital ways of selling and this has enabled the economy to weather the second and third lockdowns more successfully than the first. Trading by digital means has made the economy more resilient and saved jobs. Unfortunately when it comes to selling there remains a wide gap between the digital haves – big businesses and growth-orientated SMEs – and have-nots."
It's not about sales training
How easy is to become a "digital have" and equip sales teams with the right skills for today? As a sales company it's obvious isn't it? It's all about providing excellent sales training…No, it's not, it's much more about how you encourage and inspire people to want to learn and then ensure they apply what they learn. This is simpler than you would think. Create a well structured hybrid learning experience that combines all of the following:
Learner Led
Instructor Led
Off the shelf
Customized
Relevant
Engaging
Playful
Impactful
Available in a range of formats: Digital, Face to Face, Virtual…
All these elements come together in the flow of work. To find out more watch the video and discover the array of sales training content available.
Contact us today to discover just how quickly you can put your teams on the path to sales success