Helping you to assess, develop and win more sales deals
Combining Board Game simulated learning with technology enabled practical application in the field
Opportunity to Order (O2O) is designed to create more "wins" when pursuing identified opportunities. The programme is a blended solution of e-learning and classroom sales training. It is based on the acclaimed methodology of board game based learning developed by Celemi. O2O also includes an intelligent technology tool to manage opportunities in daily work after the sales training, developed by Revegy.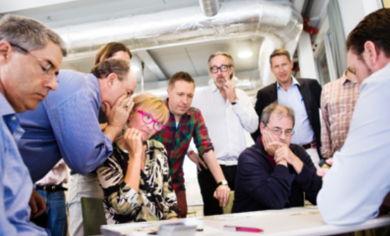 "O2O is an approach that is demanded by the market and built on a platform to ensure implementation. In this way customers know they are getting a world-class solution which will be used by their people."

Robert Box, Product Manager, Mercuri International
For companies already using the programme the benefits are clear. "We have implemented the O2O approach since the method of development is modern and interesting. The O2O concept itself is being used on a daily basis by our relationship managers, with good results'' says Zdenek Plas, Sales Manager at VB Leasing in Czech Republic.
Good Opportunity Management leads to:
Increased success in winning large opportunities
Measurable result and quick ROI
More systematic opportunity planning,efficiently duplicated throughout the organization
Improved business result
Increased revenue and profit on large opportunities
Interested?
Find out more about business simulation and how it can benefit your sales performance