Classroom sales training takes many different forms. We use business simulation and forum theatre to create life like situations.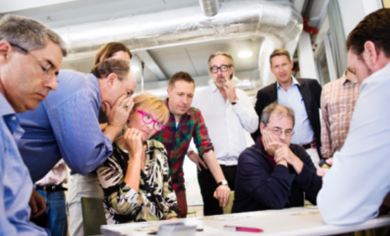 The simulations create a challenging and compelling sales training event which tests the decision making within your sales teams. The sales situations are tailored to reflect a typical scenario in the world of your sales people.
We work closely with our business partner Celemi providing business simulations such as Apples and Oranges which empower your learners to think like business owners through the power of play.
BioMérieux Group
Winfried Windegger
Director of Global Sales Capabilities
We have chosen Mercuri International for their very pragmatic and efficient sales training programmes, their ability to deliver the contents in the 39 countries where we are present – and to adapt the contents to the local culture when needed – and the excellent support and coordination made by their International Project Leader. When delivering the same contents in 39 countries, good project management, transparent communication, flexibility and commitment are qualities that we highly appreciate from Mercuri International. The sales training plan that we are currently implementing in China is a perfect example of how Mercuri demonstrated those high skills that we demand from a training partner."
---
IT and Telecoms
Hewlett Packard
General Manager
We found that we could identify and manage the highly critical sucess factors in a knowledge company and actually quantify the results of our decisions. Celemi Tango is a great learning laboratory that had a very positive impact on our business management.
---
CELEMI Performance™
Business Unit Manager
Software Manufacturing Company
The participants on my team greatly improved their knowledge around the main issues that infuences a business. We used the Performance program as a platform to discuss our company's new strategy – what we need to reconsider in our company, such as our product – and service offering and market presence – and why
---
Manufacturing, Engineering and Construction
Chief Executive Officer
Nohau
"The message is clear and to the point – if we do not sell what the customers want, we are out of the game…Nothing is constant in the world around us. We need to review our strategy frequently, and keep finding new ways of making money."
---
Manufacturng, Engineering and Construction
Personnel Manager
Volvo Bus Corporation
Apples & Oranges surpassed our expectations by a wide margin. [It] not only gives us a foundation to build on – it also creates enthusiasm and gets people involved. These are essential components for us as we launch our development program
---
Financial and Professional Services
Internal Consultant
Principle Finance Group
Everyone is thinking like business owners. That means future decisions will be made based on sound business thinking, which should improve the financial picture much quicker.
---
Healthcare and Pharamaceutical Industry
Personnel Manager
GlaxoSmithKline
In one of our factories we came up with £1 million worth of potential improvements as a direct result of the Celemi business simulation
---
Renishaw plc
Kevin Gani
Director of Sales and Development
Mercuri International are supporting a number of development programmes across our business internationally. To help Renishaw in increasing our sales effectiveness in some specific product lines I selected the O2O programme from Mercuri with a view to increasing our confidence and capability to sell in complex situations. The consultants delivering the programme are extremely competent with the simulation and have the experience to bring theory to life with real examples of sales situations. This is critical to ensure engagement within our sales teams and to have the confidence to be more selective, ask the right questions and determine the correct course of action. Ultimately sales people want to be successful and the O2O programme has contributed to how we will sell our solutions
---
Financial and Professional Services
Head of Sales
Lloyds TSB
Mercuri International have made a significant contribution to our sales management, our sales skills and our sales processes. Their innovation, industry understanding and delivery have helped us build the sales culture across the wide range of businesses that make up Lloyds TSB Corporate
---
Sightsavers
Elissa Pette
Human Resource Director
Whilst we have a performance review process, the limitation for line managers was in trying to compare skill sets of developing managers and then set a development plan that was still focused on the individual as well as creating a cost effective approach to the training strategy being able to assess and benchmark competencies standardised this process,. By identifying the competencies that matter most to us as an organisation and rating developing managers against these, provided the framework of where the training investment needed to happen to close the skills gap assessing and benchmarking both at the beginning and end of the modular programme demonstrated the ROI as the uplift in skills, knowledge for each identified competency point could be clearly evidenced.
---
Carefusion
Ian Bell
Training and Education Director
The Online Competency Benchmark Tool that we have instigated in partnership will allow me as a new Training and Education Director to understand the needs of our sales organisation through their own eyes and those of their managers what it will give me is the ability to focus the resource at the right area to make the biggest impact. It also gives me the ability to measure the sales teams on an annual or biannual basis. It's a fantastic tool and working with Mercuri gives me a confidence in the end result.
---
Global Top 20 Bank
Head of Private Banking
Financial and Professional Services
Our challenge was to raise the bar of both our newest and most seasoned relationship managers. Mercuri International invested time to tailor and expertly deliver a course for our unique needs and context. It not only pushed the limits of our most experienced/cynical managers, but continues to deliver top and bottom line benefit to the business.
---
ERH Group
Dave Jones
Group Managing Director
Having completed the strategy development it became increasingly important that we identified Competency, Skills and Attitudes to delivering "our future". Competence assessment helped to get buy-in to the development plan but, more importantly, the ownership. This also made really sensitive change management possible, leading to succession planning and the development of our sales training strategy. We now have clear set of key performance indicators for the future.