Beverley Train from Royal Mail, explains how the Sales Apprenticeship is inspiring her to change her approach to account management. Beverley is currently undertaking the Level 4 Sales Executive qualification and has welcomed a new perspective around questioning techniques.
"The SEL4 Course has encouraged me to think more broadly about the logistics and eCommerce sectors, and the future of Royal Mail and our customers. I have really engaged with the programme and found the positioning statements and PESTLE Analysis chapters particularly useful. Clients often commoditise our services and the training has stimulated my thoughts around asking tailored questions and creating differentiation.

Euan, my LDC at Mercuri has given me continued support throughout the programme. He recently shared with me a model that builds on the SWOT analysis. It looks at various ways of confronting the points highlighted including; offensive, defensive and protective strategies which I found incredibly useful. ''

Beverley Train, Account Manager, Royal Mail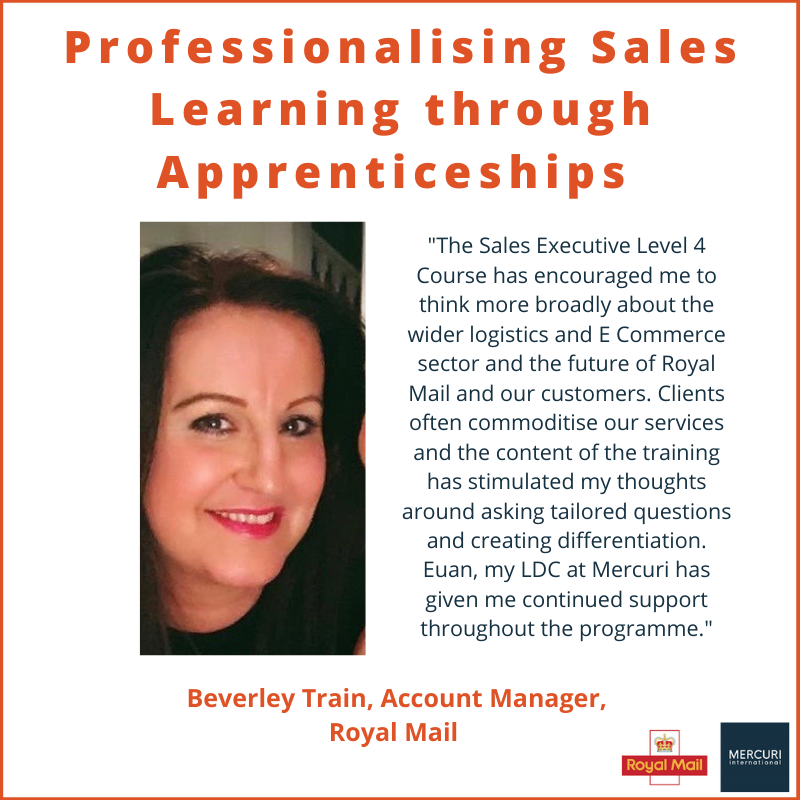 Euan Cunningham, Beverley's Learning and Development Coach said "It is a pleasure working with Beverley. She applies herself 100% to all of the activities and continually demonstrates deep understanding, awareness and application of the content. She is also skilled at raising questions on how things are working in the real world, researching further and referencing that research."
Funded sales development
The Level 4 Sales Executive programme is an excellent way for sales professionals to enhance and refine their skills. Not only does it reinforce and reaffirm existing skills it stimulates and empowers learners with a fresh approach to sales performance improvement.