Mental Health Awareness all year round
The World Health Organisation recognises World Mental Health Day on 10th October every year. The theme for 2021, set by the World Federation for Mental Health is 'Mental Health in an Unequal World'. Check out their range of content designed to give you more information about mental health and to help you to look after your mental health.
---
5 ways to wellbeing
1. CONNECT – Connection is about relating to others and feeling understood. Speak to the people in your life, be it friends, family, colleagues or neighbours. Build new connections to expand your circles – this could be at wor or in your local community. Developing these connections will support and enrich you every day.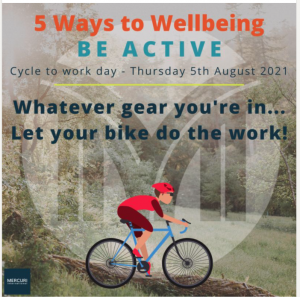 2. BE ACTIVE – Engaging in regular physical activity is known to go hand in hand with lower rates of depression and anxiety across all age groups. Simply step outside, exercise your green fingers or go for a walk or run, cycle or dance. Exercise releases hormones that make you feel good. Most importantly, being active is about discovering a physical activity you enjoy and that suits your level of mobility and fitness.
3. TAKE NOTICE – Take stock of your surroundings, be curious, catch sight of the beautiful. Being in a state of 'mindfulness' has been shown to be associated with a positive mental state. Greater awareness of the world around us helps us see the unusual and notice simple pleasures like the changing seasons. Savour the moment, whether you're walking to work, eating lunch or talking to friends. Be present to your feelings and environment. Reflecting on your experiences will help you appreciate what matters to you.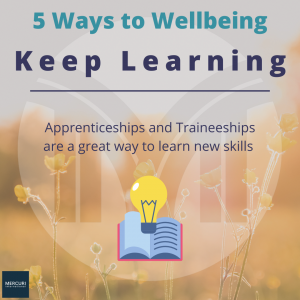 4. LEARNING – Learning something new is good for your brain. Trying something different, rediscovering an old interest, taking on a new responsibility at work or signing up for that course you've always wanted to do can also improve our confidence and widen our skillset. The challenge and enjoyment of learning new things gives a sense of fulfilment that is second to none.
5. GIVE – Evidence suggests that 'giving back' or helping others promotes wellbeing for all ages. Why not do something nice for a friend, or a stranger. Thank someone. You could even volunteer your time with a charity or join an online community to give and receive peer support in equal measure. The key to giving is to look outwards, as well as inwards. Seeing yourself, and your happiness, linked to the wider community can be incredibly rewarding and creates connections with the people around you.
Can you tell if someone is struggling?
Mental Health First Aid England and BBC News have developed some interactive mental health first aid exercises, click the button below to check it out. Alternatively find out more about Mental Health Awareness Week, the five steps to wellbeing from Mind and advice from Samaritans about nature and the benefits to our mental health.
Stress Awareness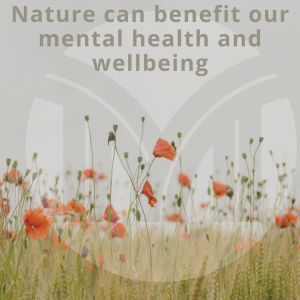 Stress Awareness Month has been held every April, since 1992 to increase public awareness about both the causes and cures for our modern stress epidemic. Despite this running for 29 years we have got a long way to go. According to the Mental health Foundation 74% of UK adults have felt so stressed at some point over the last year they felt overwhelmed or unable to cope. It's good to talk. Talk about Stress and it's effects – lets work together to reduce the stigma that is associated with stress by talking about the topic openly and freely with friends, family and colleagues.
---
Tips on supporting your mental health
Check out this video from Mental Health First Aid Engalnd
Relaxing lockdown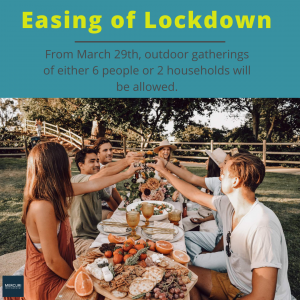 From lockdown to the relaxing of the rules. Even when change is wanted and needed it can be stressful and sometimes frightening. The relaxing of lockdown rules for many of us is a much anticipated change but the re-adjustment can still be difficult for our mental health. Navigating how you feel about the relaxation of COVID rules can be challenging. Excitement combined with stress and anxiety. Some people will still be incredibly anxious about catching Covid, while others will feel the world outside their house is unfamiliar and frightening.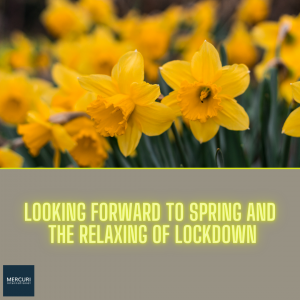 ---
Lockdown 2021
With lockdown changes and the continual worry concerning COVID, it is essential that we focus on our mental wellbeing and physical health. We are all dealing, to varying degrees, with:
Different working routines.
Health concerns.
Increasing reliance on technology for our interaction with others.
All of the above have an impact on our mental health and it is imperative to our wellbeing to be mindful of this and take proactive steps to help ourselves. There are numerous things we can do to support this. From talking to a friend or colleague and physical activity to accessing the insightful content available from organizations such as Amazing Apprenticeships. Whatever your situation, whether you are working and learning from home or gradually returning to your workplace, consider your own resilience and stress management techniques.
Mike Thompson from Gen. Healthy Minds detailed that one third of employers are reporting a rise in mental health issues among young people starting their careers. The survey of 711 corporate and SME employers also revealed a 40% increase in absence or sickness, with 26% reporting lower productivity because of mental health issues.
Mike talked about training our brains to be more positive to help us rise to challenges and be happier at work and home. Building resilience, taking time off to recover if you do a stressful job like selling, and using mindfulness to understand your thought process.Workplaces need the right pieces of the jigsaw in place to help people thrive. These include:
Creating a supportive community, where people really understand mental health and wellbeing.
Developing positive behaviours.
Providing online advice/support to help people deal with difficult challenges in workplace can get support.
Making sure specialist care is available when needed.
Does your employment require you to return to the workplace?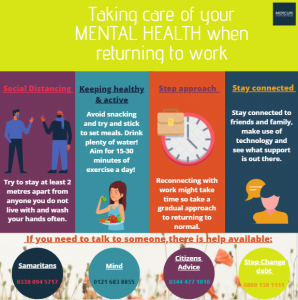 Or are you working remotely?
What's the future of work?
A recent anonymous poll submitted by a Google employee on Blind (which has 3.6 million users) asked "Is working from home hurting your mental health?" 66% of the 9726 responses stated that working from home was hurting their mental health. To offset the negative side, businesses need to think about the collaborative process in a different way. Technology plays a major part, with video conferencing the most obvious tool to give a sense of community and 'belonging'. (This is from an exerpt from our "Grow Your People E-Book".)
How to protect mental health during the COVID-19 pandemic
Rehab4Addiction provides facts and statistics about how the Covid-19 pandemic has impacted on mental health. They have also included some useful tips and guidelines that you can practice at home. These will help you look after your physical and mental wellbeing.