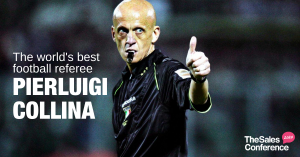 PIERLUIGI COLLINA: THE MORE YOU KNOW, THE BETTER YOU PERFORM – It's rare, in the sporting world, that a referee rises to the same level of stardom as the players, but in the case of Pierluigi Collina, this is undoubtedly the case.
Our colleagues at ProSales, as part of the build up to the Sales Conference, are talking to several of the most prominent attendees and discovering their views on where we are now – and, more importantly, where we're heading.
"I am a man of the rules…the only way to deal with problems is by being very, very hard and punishing those that do wrong."

Pierluigi Collina
More about the Man
Born in Bologna in 1960, Pierluigi attended the town's university, graduating with a degree in economics in 1984. As a teenager he played as centre-half, but it was when he signed up for a referee's course at the age of 17 that his true talent was revealed. His natural presence and physicality led to rapid promotion within the refereeing ranks and within just three seasons he was officiating at the highest level of Italian regional football.In 1991 he refereed his first 'Serie A' (Italy's top football division) match, and after only 43 outings was promoted to FIFA's list of international referees. Collina was the antidote to everything that had gone before. He adorned the cover of computer games, helped to sell cars and fronted advertising campaigns for Mastercard and Adidas. Over a decade after his retirement, he remains one of the most recognisable faces in the game.
Rules to live by
Adapt: "There is no type of refereeing that works well for all games," Collina says. "The referee has to develop an almost chameleon-like capacity to be able to adapt his own abilities to the requirements of the match."
Preparation: 'In preparation for a match I watch both teams on television at least once. The first thing I try to memorise when I study a game on television is how the teams play, the tactics they use on the pitch, both for defending and attacking…'
Professionalism: Mostly, he was the man who took football refereeing into the modern age, who added a new level of professionalism to the profession. "People probably do not consider referees as athletes," Collina once said. "But we are."