Apprentice Graduate Sales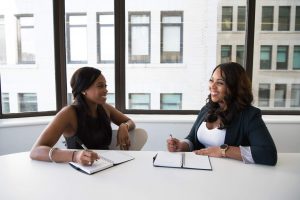 Three job vacancies available at award winning UKFX Holdings! Join the dynamic team, based in Stevenage, Hertfordshire to engage and onboard corporates across the UK who require FX (Foreign eXchange) execution as a part of their treasury services. Assist in providing clients with the best possible service, keeping them abreast of market movements, industry trends and strategy. Career progression and development are at the heart of the UKFX Holdings ethos, they invest in high performers who believe in their mission.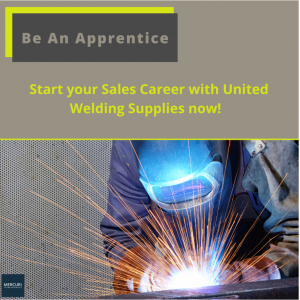 Sales Apprentice at United Welding Supplies
United Welding Supplies has a head office in Hitchin Hertfordshire and further branches in Norwich and Peterborough. They are looking for an apprentice to join their business supplying equipment to the welding and metal work industry. If you have excellent people skills and a motivated, proactive approach this sales apprentice role could be for you. Go the National Apprenticeship Service website for details.
---
As a nationwide learning provider we work with a range of organizations across England, from SME to FTSE 100s, supporting them with their apprentice vacancies. Here you will find a list of current sales, leadership and service apprenticeship vacancies.
Apprentice Account Manager
We are looking for an Apprentice Account Manager (AAM) to join the LAK Locums sales team in Leeds and acquire invaluable knowledge and experience in the Medical Recruitment Industry. LAK Locums is a well-established NHS Framework provider. As part of the NHS supply chain LAK offer a first-class service by providing Medical professionals into the NHS and Private sector.
Join the team at Utility Stream Ltd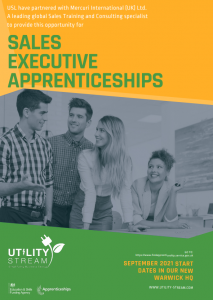 Sales Executive Apprentice
This is an exciting opportunity for an ambitious and motivated sales apprentice to join an expanding, vibrant team as a Level 4 Sales Executive Apprentice. The successful applicants will gain a real grounding in Business to Business direct sales in a fast paced, dynamic and forward thinking, environmentally friendly organization.
The purpose of the role is to generate sales (initially as a lead generator) by securing business gas, electric or water contracts. Responsibilities include: building a pipeline of small business prospects through a range of contact strategies – mostly this will be achieved through outbound calling from an existing database.
Future prospects
All successful candidates will be offered a full-time permanent sales role on completion of the Apprenticeship. In addition, there are a range of senior sales roles (including field-based Business Development roles, Corporate Sales and other specialist sales roles). Find out more about this fantastic opportunity which is based at brand new offices in Warwick by clicking the button below:
Office Administration Apprentice Vacancy at Pump Logic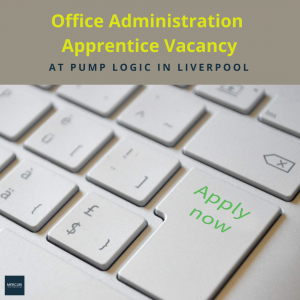 Are you an organized person with great IT skills? Pump Logic Ltd is looking for a motivated individual to join them as a business administration apprentice. This is a fantastic opportunity for an enthusiastic person to kick start their career within a fast paced and well-established company. From Administrative Sales Support to keeping computer records up to date and responding to customer enquiries and assisting the sales team, this role is ideal for a confident and organized team player.
Pump Logic Ltd is based in Liverpool, they are a forward thinking company which puts the customer first at all times.
Apprentice Recruitment Consultant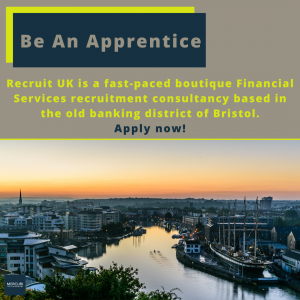 Recruit UK is a fast-paced boutique Financial Services recruitment consultancy based in the old banking district of Bristol. To further their growth and success they have opportunities for aspiring recruitment consultants to join their busy IFA, wealth-management and Financial Technology departments. This is a very exciting time of expansion, hitting record-breaking fee levels along with ambitious growth plans for the future.
Business Development Vacancies with Genesis Capital
Choose from an apprentice Business Development Executive in Middlesex or a Business Development Direct Sales vacancy in Nottingham. Both these vacancies are with Genesis Capital, one of the UK's leading independent finance providers. Contact us to find out more about these vacancies.
Further apprentice vacancies