We have some amazing apprenticeship vacancies, scroll down to find out about working for these fabulous, forward looking companies. As a nationwide learning provider we work with a range of organizations across England, from SME to FTSE 100s, supporting them with their apprentice vacancies. Here you will find a list of current sales, leadership and service apprenticeship vacancies.
Sales Development Representative Apprentice with Glean
Glean is looking for a motivated, fun & engaging Sales Executive to join their growing Sales Team. At its core, this is a lead generation role, with the aim of booking meetings for the Account Executives through outbound calling. Generating new opportunities by working closely and collaboratively with the Account Executives and Marketing Team.
The Sales Executive role provides a great career development platform for individuals who are sales-oriented, ambitious and enthusiastic. The Sales Executive will be the starting point for all future conversations with our potential customers and are therefore a vital ambassador of Glean. As a result, we are looking for an individual with a positive attitude, that enjoys speaking and engaging with prospective customers with the goal of accelerating our growth.
Sales Apprentice at Channel-C Limited
An exciting opportunity to join the next academy as a sales apprentice and carve out a successful career within the sales sector of the IT Industry. You will be fully supported within the Telesales Team, actively promoting the company's products and services. You will sell leading Tier 1 manufactured hardware to companies in the IT trade. Work closely with and be supported by the Management Team to generate new business. Develop new and strengthen current accounts by cold/warm calling.
What you will do:
Undertaking an 18-month apprenticeship where you will undertake the Sales Level 4 Mercuri programme, full training inhouse training and support will be provided, upon successful completion of your apprenticeship you will have the option to join the company in a full-time permanent capacity
You will be fully supported and work within the Telesales Team, actively promoting the company's products and services
Help customers to fulfil their daily procurement needs
Enjoy varied daily challenges, growing and demonstrating your sales talent
Sales Apprentice at United Welding Supplies
Apprenticeship Recruitment Consultant with Recruit in Bristol
Do you have a strong sales drive, motivation for hitting targets and exceptional communication and influencing skills? If this is you the team at Recruit have opportunities for aspiring recruitment consultants to join their busy IFA, wealth-management and Financial Technology departments in Bristol. The dynamic company will invest heavily in developing you into a first-class recruiter through one to one personal coaching and on and off the job training, including the sales apprenticeship programme with Mercuri.
Partnership Support Consultant with Pearson
As a Partnership Support Consultant with the world's learning company, you will manage a variety of tasks as part of the sales operations team. These fall into one of four pillars Report, Maintain, Grow, Innovate: From creating weekly sales reports and multi academy trusts proposal documents to managing new account requests in the CRM and all new starters in the sales teams to developing mailshots and organizing customer facing events this role is multi faceted.
The Sales Operations team
The team have seen digital customer needs accelerate/emerge in response to COVID-19, as a result of this growth and evolution, they are expanding their Sales Operations team, in order to support the field and internal sales teams, so they can maximise and grow ther schools business. If you have a genuine interest and passion for learning and educating click the link below now!
Apprentice Graduate Sales – Join the UKFX Holdings team in Stevenage
Four job vacancies available at award winning UKFX Holdings! Join the dynamic team, based in Stevenage, Hertfordshire to engage and onboard corporates across the UK who require FX (Foreign eXchange) execution as a part of their treasury services. Assist in providing clients with the best possible service, keeping them abreast of market movements, industry trends and strategy. Career progression and development are at the heart of the UKFX Holdings ethos, they invest in high performers who believe in their mission.
Engage with and onboard corporates across UK who require FX execution as a part of their treasury services
Assist in providing clients the best possible service, keeping them abreast of market movements, industry trends and strategy
Keep up to date with compliance issues as per our regulation and undertake training provided to you where applicable
Meet and exceed quarterly and annual revenue targets
Work with other teams internally and where applicable help to promote cross product collaboration
Commercial Administrator – UKFX Holdings, Stevenage
Due to their expansion, the team at UKFX are also recruiting for a Commercial Administrator Apprentice. The apprenticeship will provide the successful candidate with a highly transferable set of knowledge skills and behaviours and the opportunity to gain excellent work-based training within the office environment with a salary and career development opportunities.
Responsibilities include:
Managing client inbound phone calls, responding to e-mails and resolving any issues
Delivering a high standard of business administration and customer service delivery at all times
Managing financial related transactions to ensure smooth running
Building client relationships for client satisfaction and retention
Adhering to strict legal guidelines
Monitoring for fraud, money laundering and other crime prevention activities
---
Apprentice in Global Strategic Accounts
Be part of a successful organization from the very beginning of your career
The people at DXC Luxoft are looking for an Apprentice Account Manager (AAM) to join their DXC Luxoft sales team. Acquire invaluable knowledge and experience on how to lead the business across the full range of Banking, Capital Markets, Wealth and Shared Services domains of Platinum accounts in the Banking & Capital Markets sector. This role will involve remote working with occiasional requirement to visit their London office.
Being part of the programme, you will spend the majority of your time with your mentor and the sales team to receive first-hand experience of sales and account management across all aspects dealing with large complex client relationships. You will be mentored by one of our senior sales professionals on a daily basis as well as receive numerous trainings supporting relevant learnings required to be successful in client facing roles in the future. By completing real life project tasks you will be able to see what kind of daily tasks are in front of client relationship managers and how to prioritise them to achieve the best outcomes for our clients.
Sales Executive Apprentice with Procurement Leaders Ltd
Procurement Leaders Ltd is hiring a Sales Apprentice to join their team in London. Click for more details if you are interested in completing the Sales Executive Level 4 Apprenticeship and have these qualities:
An interest in developing a career in Events sales;
Strong customer service focus;
Willingness to learn and get involved;
Keen eye for detail;
Highly organized and able to multi-task & effectively prioritize;
The ability to come up with solutions and problem-solve;
Driven individuals with a record of achievement (academic, sporting, workplace etc.)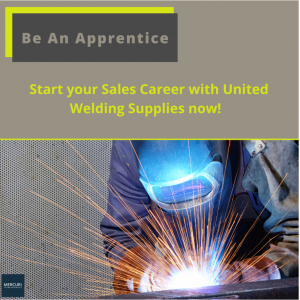 Sales Apprentice at United Welding Supplies
United Welding Supplies has a head office in Hitchin Hertfordshire and further branches in Norwich and Peterborough. They are looking for an apprentice to join their business supplying equipment to the welding and metal work industry. If you have excellent people skills and a motivated, proactive approach this sales apprentice role could be for you. Go to the National Apprenticeship Service website for details.
---
Apprentice Account Manager
We are looking for an Apprentice Account Manager (AAM) to join the LAK Locums sales team in Leeds and acquire invaluable knowledge and experience in the Medical Recruitment Industry. LAK Locums is a well-established NHS Framework provider. As part of the NHS supply chain LAK offer a first-class service by providing Medical professionals into the NHS and Private sector.
Office Administration Apprentice Vacancy at Pump Logic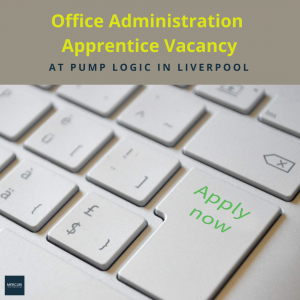 Are you an organized person with great IT skills? Pump Logic Ltd is looking for a motivated individual to join them as a business administration apprentice. This is a fantastic opportunity for an enthusiastic person to kick start their career within a fast paced and well-established company. From Administrative Sales Support to keeping computer records up to date and responding to customer enquiries and assisting the sales team, this role is ideal for a confident and organized team player.
Pump Logic Ltd is based in Liverpool, they are a forward thinking company which puts the customer first at all times.
Business Development Vacancies with Genesis Capital
Choose from an apprentice Business Development Executive in Middlesex or a Business Development Direct Sales vacancy in Nottingham. Both these vacancies are with Genesis Capital, one of the UK's leading independent finance providers. Contact us to find out more about these vacancies.
Further apprentice vacancies